17 Questions for 17 Years of Expert Network
"The secret of change is to focus all your energy not on fighting the old but on building the new." (Socrates)
For our anniversary this year, we've decided to ask Vlad, our CEO, how Expert Network has changed over the years. We thought it would be best for you to hear about our transformation, right from the main source.
And what better way to do it if not through a Q&A, where Vlad answered 17 questions, asked by our colleagues, about the company's beginning, his vision then and now, plus other interesting facts.
So sit down, enjoy a cup of coffee or tea, and read through Expert Network's history.
1. How did you come up with the idea for Expert Network?
I have always been a curious person that enjoys exploring new opportunities and connecting with people that I can learn from, to expand my perspective. And the idea for the company was rather spontaneous because I didn't plan it. An opportunity arose, to work on an ERP for an Italian client, and from there, things evolved naturally.
2. How did EXN look like in 2004 when it all started?
The beginning was very modest, like all startups. Myself, Andrei (our current InfoSec Manager), and Traian (a developer friend) rented a plain room in an apartment. We've put three desks for us to work from, and in the other room of the apartment, a Java company also had its 'headquarters'. So it was nothing sophisticated or polished. Our focus was just to deliver the tech solutions for our client.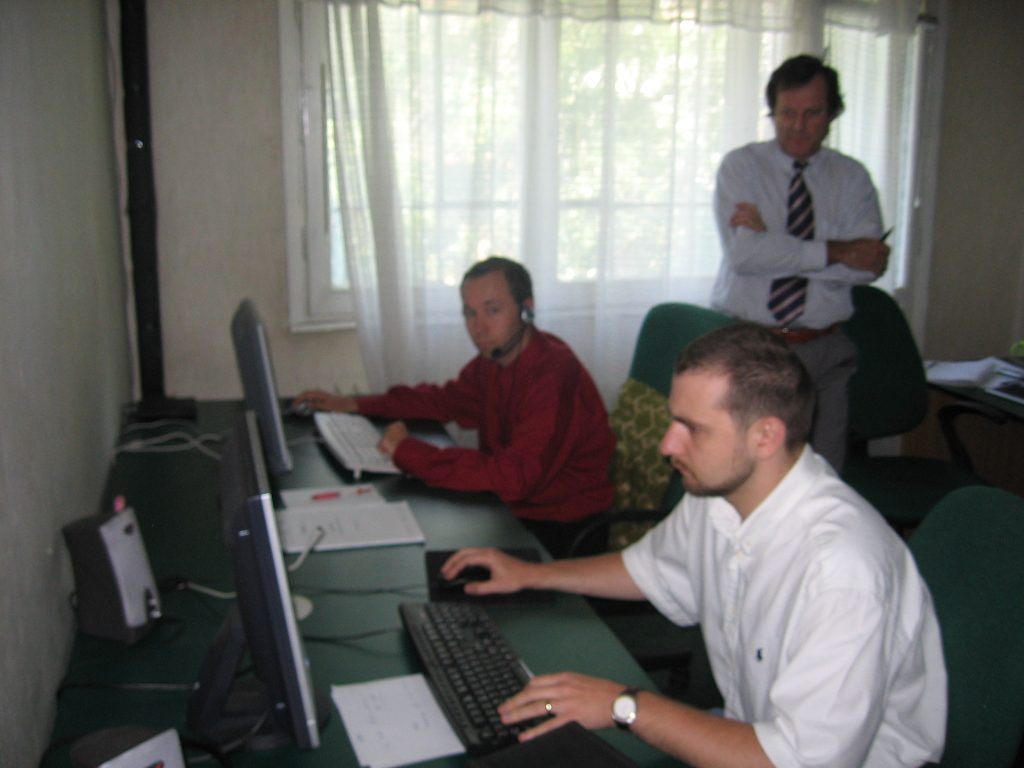 3. What were your biggest fears back then?
Back then we didn't think in terms of fear, but in terms of productivity – Let's build something worthy and useful that will actually help our client. What made me worry was not to fail the only client we had. We needed to make his business work, and meet his needs, because this way, it showed our capabilities and the added value we were able to bring.
4. How did you stay motivated to expand the business?
Back then, I was not inclined towards thinking strategically about the future. The focus was on delivering quality, achieving the client's requirements. This came naturally because I knew the quality I wanted to have and maintain. Once I would achieve the set goals, I would have immense personal satisfaction. So it has to do with the right mindset – to keep going and look for value.
Also, I believe I have had this point of view ever since I was little. My family would tell the story of when I was two, riding the tram with my grandfather and as I was looking at the window, I would notice the screws around it that weren't put in the right order. This realization upset me because I wanted the screws to look aligned. So I believe that from an early age I was inclined towards symmetry, and being orderly.
5. How did you think Expert Network would look like in 10-20 years?
This wasn't a point of view I considered back then. Everything was in fast-forward, firefighting mode. Together with Andrei and Traian, we would be in daily calls with the client and then we would discuss how to deal with the tasks ahead. We didn't have a plan, we didn't follow guidelines or specific good practices. We would brainstorm ideas, someone would write them down and we learned step by step how to be better and optimize our work. It was all based on trial and error and we would learn the ropes as we moved forward.
6. What have been the challenges over time?
There have been two crucial moments. In 2005, the only Italian client we had, came to the conclusion that he could no longer support our 3-person team. So he gave us a 3-month notice that we had managed to extend into a 6-month part-time, giving us enough time to get in touch with the second client (from the UK) and with Wildstream.
Another challenging time was in 2020, with the pandemic. The main concern was related to the potential difficulties of our customers that had the risk to be transmitted back to us. Through steady leadership and everyone's dedication, we've managed the entire process smoothly.
7. What were the most important moments of Expert Network?
Taking over the second room for rent.
The proposal we made to Wildstream to evolve the customer-supplier relationship into a complete partnership.
Moving to an office building and then moving to our current location.
Creating and working on the campus, adding the second building and the swimming pool.
Putting together our leadership team.
Perfecting our processes through Bamboo, our internal change management system, until we transitioned to the company's maturity model, company values, DevOps, career path, and more.
8. How was the transition from 3 employees in 2004 to 100 employees at the end of 2021?
It was an incredible journey that seems to have passed in a flash. Getting 100 employees was possible because of the people that I am so grateful for. We've managed to attract amazing, highly skilled people and each of them has come with a complementary skillset and mindset. So now we are like-minded people that share common values, a mutual mission, all committed and passionate about what we do. I couldn't have asked for more.
9. Does the company still resemble what it was in 2004?
Certainly not. Only the name has stayed the same.
10. What are the ingredients to maintain a successful business?
Everything is done with people. So definitely a passionate team gathered around common values ​​and ideals can move mountains.
11. How hard was it for you to move from developer to manager?
Looking back, I realize that from the beginning I had to do more than development. From the start, I had to be an account manager and soon a planning coordinator, a technical coach, a QA (without a defined structure), even a recruiter. So I've learned to adapt along the way.
12. How did you decide to build Expert Network's pool?
Together with Frederic Apers (CEO Carflow / Executive Board Member Wildstream), we thought about how we could make the work environment special, warm and welcoming, where colleagues would enjoy coming here, bonding with each other, and even create long-term friendships. That's how the idea was born, and from there to execution was only a step.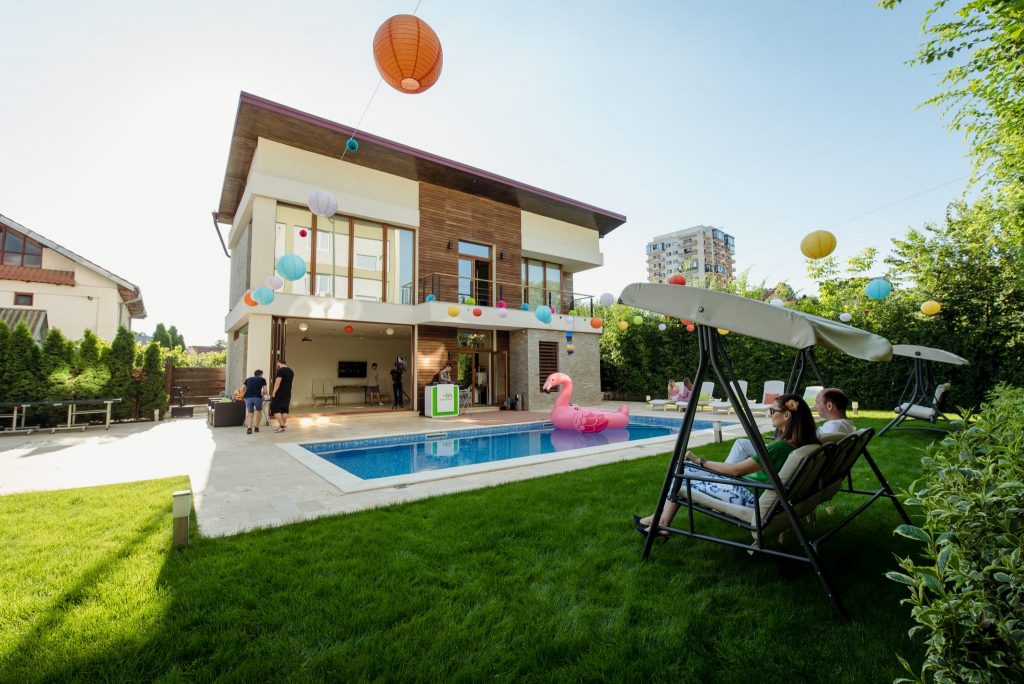 13. How many frogs have you found in the pool over the years?
At first, I remember frogs were a problem but I can't remember how many exactly. What's been unusual are the cats. They're somehow attracted to the water and some even jumped in the pool and we had to take them out.
14. How many grey hairs has the third building given you?
Not too many. In life, there are things we can control and others we can't. All we can do in the second case is give our best to find solutions and unblock things. Energy consumption about things we can't control only takes us away from our goals, so it's not worth it. I'd rather think about how I could have moved forward with the building instead of looking back to complain about how I've been stuck.
15. What do you like the most about what you do?
I like creating value, which manifests itself in several ways: from colleagues who grow in expertise to products that are born again in the company.
16. What would you have done differently if you were to start all over again?
From the beginning, I would have taken the path towards strategic thinking. I would visualize things from a long-term perspective to set them in motion. So, I would start by quitting the firefighting mode to be able to see the bigger picture and plan ahead.
17. How do you manage to organize yourself with work and family life?
What's important in life is to do things with passion. When you do them with pleasure, you find time for everything. Time is an excuse to postpone things we don't like, that we don't enjoy. You will always find time for something that excites and stimulates you and you'll somehow make room for that in your life.
Regarding my family, I'm very lucky that I can separate work from my personal time. With three young children, managing a business and communicating with clients would have been quite difficult. Even the time I spend while driving to work gives me a valuable context to be with myself and let my thoughts settle. What is certain is that I never have too much time, quite the opposite.
Share this article on
Be part of our team