Why Customer Onboarding is Crucial and How We Do It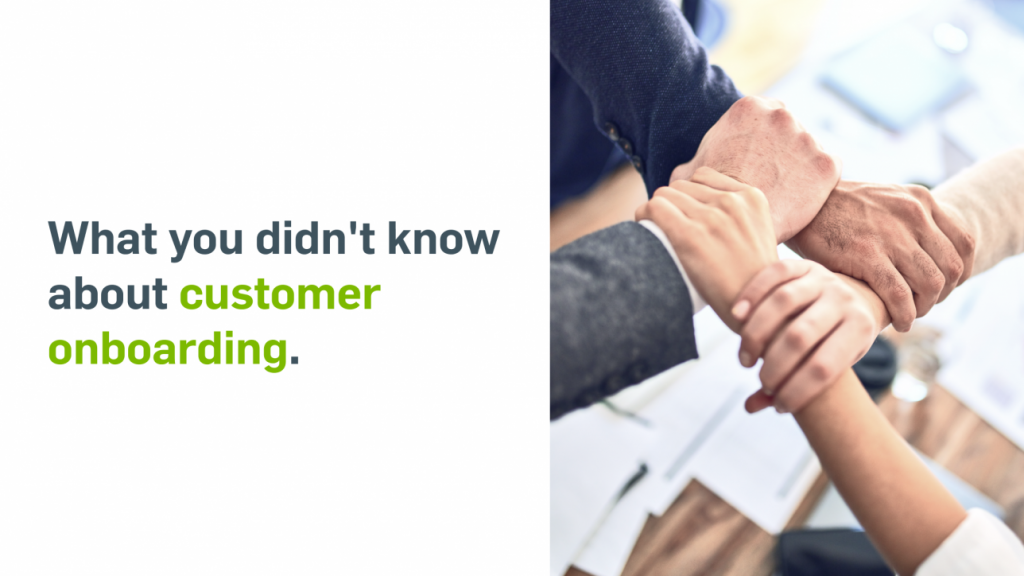 For many companies today, software is a vital gear in the core of their business. Developing one's business software can be part of a strategic initiative or a new business opportunity, as it assists in increasing the efficiency and effectiveness of a company's activities. The downside of these types of projects is that they require high budgets, great amounts of effort from everyone involved, and the right IT supplier and partner. It's particularly important to find an IT supplier and partner that you can collaborate with successfully so they can deliver your desired results. How can you identify the right and best-fit IT supplier and partner for you?
This is where customer onboarding comes into play. How a company conducts their customer onboarding experience reveals a lot about how dedicated to clients, trustworthy and professional they are. The initial steps and touchpoints covered during the customer onboarding process are also a crucial hint as to how successful of a collaboration it would be.
What does customer onboarding mean to us?
To us at Expert Network (EXN), customer onboarding is a gradual and effective process of showing clients everything we have to offer and teaching them how to get the most out of our services. It's about focusing on clients by listening to and answering their questions or concerns, then using a strategic plan to support and guide them so clients receive the results they expect from our collaboration. The way new customers are onboarded sets the tone for our ongoing relationship, which is why we place importance on the process and go to great lengths to ensure the experience is as smooth as possible.
The onboarding experience is a make-or-break point. A positive journey is confirmation for clients that they have made the right choice. It sets clients up for success, increases overall lifetime value for them, and turns new users into raving fans. A content clientele will also come back for more, tell their friends, and help to reduce churn. On the other hand, a negative one creates unhappy and frustrated clients who are unlikely to return.
Since this is the case, we approach our onboarding plan strategically with the goal of achieving success and define that success with:
higher levels of software delivery performance
the development of a useful product we can place in the hands of customers
working software from every sprint and something to demonstrate progress
reduced release and deployment pain
healthy communication and collaboration
reduced team burnout and better work recovery
the assurance that we make constant progress on milestones and targets
a performance-oriented culture, where every individual has a strong identification with the company
Our approach to the onboarding plan
In order to provide a successful onboarding transition, we use a specific strategy and plan so that all parties involved are informed, in agreement with, and aware of what's going on every step of the way. For us, each phase of development in the onboarding process revolves around two keywords: transparency and trust. We focus on our customers and guide them through each phase, clearly communicating what we do, why we do it, and how we do it.
The initial phase covers basic touchpoints with the client:
their vision, goals, and current pain points
timeline (if any)
technology stack
design requirements and status
technical requirements and status
non-functional requirements
We then follow up this initial phase with a discovery workshop. In the discovery workshop, we take a closer look at a client's current business needs, their future plans and goals. We also consider what their ideal solution, timeline, and budget looks like for them to achieve those goals. The workshop focuses on delving deeper and really getting to know our client, then demonstrating the value we can provide them. Another key and important element at this point is managing the expectations of all parties involved in the project. By communicating and managing clear expectations, we can successfully and continuously deliver on what our customers have purchased within the agreed-upon conditions.
How we do it: our customer onboarding methodology and processes
For a successful digital delivery, methodology and processes are as important as the people involved and the technologies used. Although the specific flow of each project will vary slightly depending on a client's unique needs and preferences, our overall methodology and processes constitute of these elements: delivery approach, delivery cycles and Agile methodology, collaboration tools, project governance meetings, and aligned team leadership.
1. The delivery approach establishes the cone of uncertainty to guide estimates and manage expectations on a project's scope, cost, and time it will take to complete.
2. Our delivery cycles and Agile methodology is presented to clients so they gain a clear understanding of the principles, practices, meetings, and delivery cadence that they can expect.
3. A variety of collaboration tools are utilized throughout the process. These can be divided by purpose as engineering (Microsoft Suite, TestRail, Azure, GitHub, Microsoft TFS, PhpStorm, etc.) or communication (Google Meet, Teams, Skype, Zoom, WhatsApp, etc.) tools.
4. Governance meetings are conducted with a monthly frequency, or as otherwise agreed. Project governance is the infrastructure that surrounds a project, dealing with: setting the right expectations, finding alignment between parties, projecting high-level roadmaps or status updates, the escalation of topics that couldn't be solved by the delivery team, and addressing blockers or other opportunities.
5. Team leadership in projects is a combination of four roles and perspectives: DevOps Coach (EXN perspective), Product Owner (client operational perspective), Development and QA Leads (delivery perspective), and Account Manager (governance perspective). Through monthly meetings, or ad-hoc when requested by a team member, continuous alignment is ensured between these four perspectives throughout the project.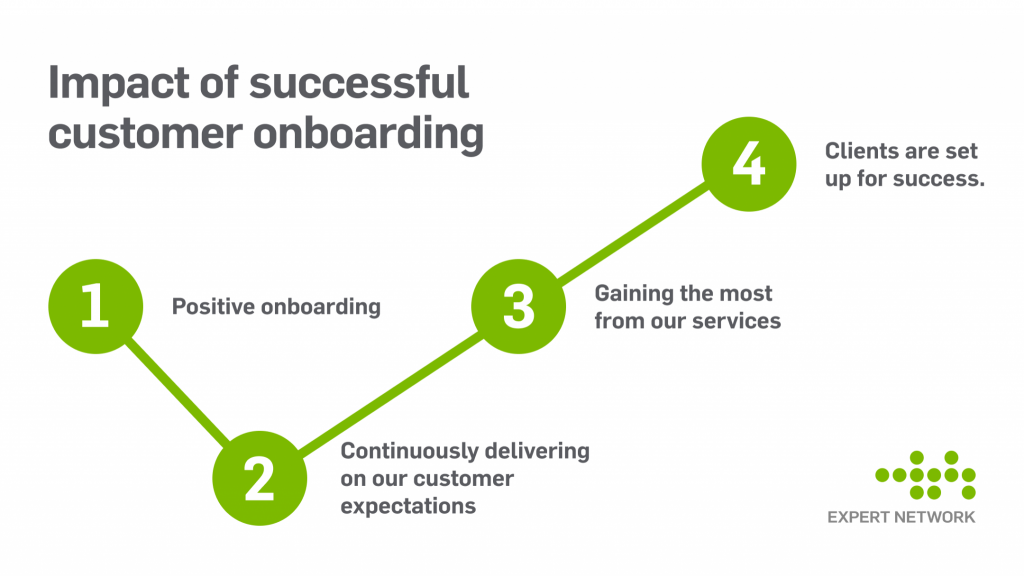 The wrap up of a successful customer onboarding experience
Thus far, we've elaborated in detail on our considerations, strategy, methodology, and processes to conduct successful and positive customer onboarding experiences. Customer onboarding is all about continuously delivering on their expectations within agreed-upon conditions. It's about showing clients what we have to offer, teaching them how to get the most out of our services, and supporting and guiding them so they're set up for success.
By being transparent about our approach to customer onboarding, we hope current and future clients now have a greater understanding of what to expect from a collaboration with us. We face each project with dedication and professionalism, which has earned us many satisfied customers that place a great deal of trust in us.